My wife Jackie makes a great meatloaf. She started
with 1 1/2 lb.20/80 ground beef, 1/2 lb. ground pork,
2 finely chopped onions, 2 stalks celery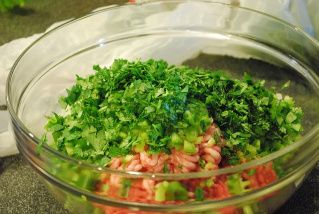 Then she added green bell pepper and cilantro
All the other ingredients: 2 sprigs fresh oregano, 3/4C oatmeal,
1 1/2t salt, 1t black pepper, 1t white pepper, 1t red pepper,
2 eggs 5.5 oz tomato juice, 5oz evaporated milk.
She mixed it all up and put it in a large loaf pan
On the Egg with a raised grid @ 275* for 1-hr.
with 2 baked potatoes wrapped in foil

Added Apple wood for smoke, poured the liquid from
the meatloaf which Jackie made gravy from. Inverted the loaf pan
onto the raised grid put the thermometer in still @ 275* until internal
temp. 160*

Served with baked potato with sour cream, butter, and green onions.
A very delightful and delicious meal
Thanks for looking
Ross